This is a P. caerulea I grew from seed, sorry for the lousy picture quality-I took it with my phone. (I have my plants in a campus greenhouse and when ever I go with my camera it either doesn't have a bloom or they aren't in a good state to be photographed.) It's a species selection of P. caerulea. Its corona isn't as long and it's colors are muted with light blue tips. I'm thinking of calling it 'Blue Tip', what do you think?
(Above, P. caerulea 'Blue Tip' by itself; Below, P. x Colvillii 'Big' on left and 'Blue Tip' on the right.)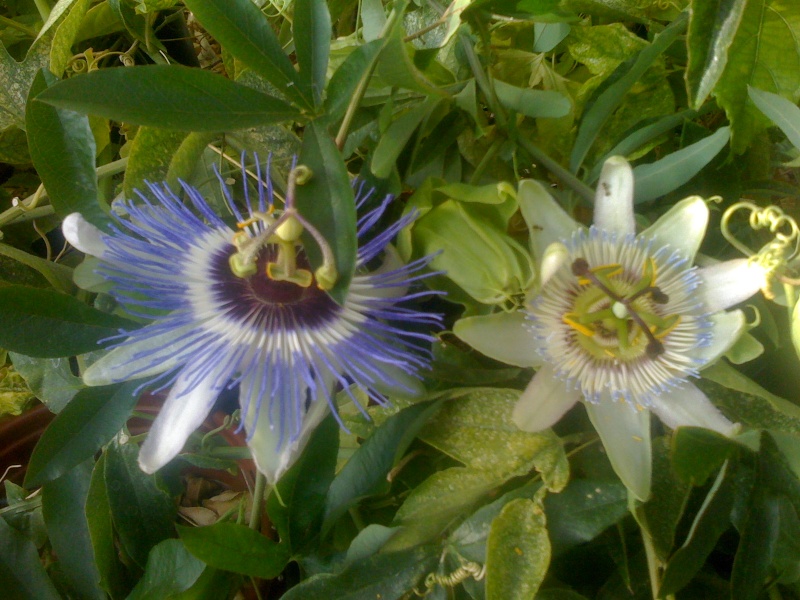 I'll try and get a picture of it next to a regular P. caerulea.
~Ethan
Dear Ethan,

I think this clone has a beautiful & delicate flower, but, IMHO, before registering I think you should also consider how profusely/precociously it blooms as compared to other known P.caerulea selections. If it compares well, then why not?

Igor Lyannoy
Ukraine

Igor Lyannoy




Posts

: 14


Join date

: 2010-09-29


Location

: Ukraine



Dear Ethan

Is this a sport from a 'normal' caerulea or has it grown from seed with all flowers on that plant looking like this? It is certainly unusual and if you can propagate it and it is stable then I think it should be registered. I mention stability because I have had experience of caerulea sports (they've always been pure white like 'Constance Eliott' ) reverting to type in the following year.

Best Regards

Les

Les King




Posts

: 2


Join date

: 2010-09-30



Dear Ethan,

I've seen caerulea flowers with similar features when plants are under the stress of pests and specially viruses. That doesn't mean this being your case. If your plant is healthy and the flowers seem to have stable characteristics as Les points then registration could be considered.

Francisco
This plant is from seed, all flowers are pretty much identical and come from a healthy plant. The seed was from a cross I made between two normal caeruleas in 2009, or possibly selfed but unlikely.

I think I will find some

really nice . thanks for share it .
Hi Ethan,

Very attractive flower! Are you sure this is a cross between two P. caerulea species plants and not a cross between P. caerulea and P. caerulea 'Constance Eliott'? It looks like a couple of my crosses of those two.

It's generally very exciting the range of offspring that both P. caerulea and its white cousin can make. Congratulations on your unique plant!

Shawn

shawn.mattison




Posts

: 19


Join date

: 2010-10-01



ethan.nielsen wrote:This is a P. caerulea I grew from seed, sorry for the lousy picture quality-I took it with my phone. (I have my plants in a campus greenhouse and when ever I go with my camera it either doesn't have a bloom or they aren't in a good state to be photographed.) It's a species selection of P. caerulea. Its corona isn't as long and it's colors are muted with light blue tips. I'm thinking of calling it 'Blue Tip', what do you think?

(Above, P. caerulea 'Blue Tip' by itself; Below, P. x Colvillii 'Big' on left and 'Blue Tip' on the right.)

I'll try and get a picture of it next to a regular P. caerulea.

~Ethan
Good morning
It esr nice the ' blue tip ', the name also
I n have never seen that her
Felicitations Ethan

tropique




Posts

: 154


Join date

: 2010-11-15


Location

: Casablanca-Morocco





Similar topics
---
Permissions in this forum:
You
cannot
reply to topics in this forum