Good evining
  J I found this in the wild wild vine.
  It looks like a passiflora.
  Who knows?
  thank you very much
tropique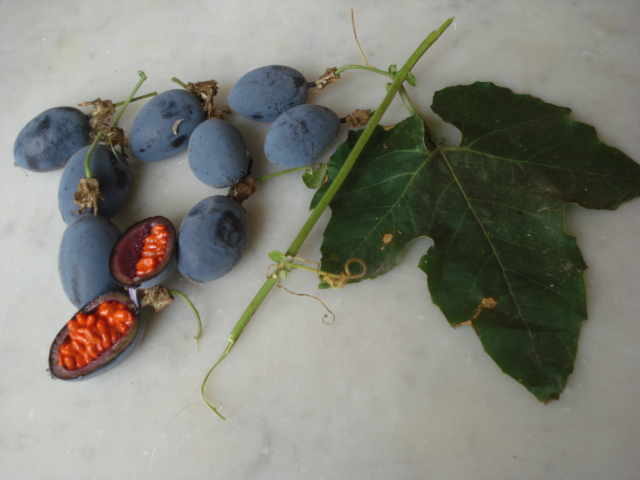 tropique




Posts

: 154


Join date

: 2010-11-15


Location

: Casablanca-Morocco



Its a passiflora for sure, flower picture would help but not needed. Also try to grow some seeds, i would love some if you find out what plant it is. I would look through my books but im away from my house for the week. Im sure someone will know which one it is.

Nick




Posts

: 121


Join date

: 2011-04-08



It looks like P. morifolia to me. The leaves have trichomes that can act like velcro on your clothes. Does this fit? If so, be aware that the fruit is NOT edible, and in fact can make you quite sick from what I've been told. Wash your hands well also, as it will stain your fingers and anything else it touches, or better yet wear gloves when handling it.

The seeds germinate readily, and it blooms early from seed. Also self pollinates like mad...



I agree with Eric on this, I was going to say morifolia from the leaves and dark blueish berries but as I have not owned this passiflora I did not risk mis speaking.

Nick




Posts

: 121


Join date

: 2011-04-08



I hear ya' Nick. I hate when I do that...
Bonsoir Nickisking

  Thank you very much for confirming that c is a passiflora.
You say that someone is a identifier.Minitou écoute.Il sent you a expert.LOL

tropique

tropique




Posts

: 154


Join date

: 2010-11-15


Location

: Casablanca-Morocco



Bonsoir EWortman
  Yeah, a est morifolia 100/100
  Identification chirurgicale.Merci much.
  And thank you for drawing my attetion hazard. I do not cultivate this passifora.
tropique

tropique




Posts

: 154


Join date

: 2010-11-15


Location

: Casablanca-Morocco




---
Permissions in this forum:
You
cannot
reply to topics in this forum