My dragon fruit 'Physical graffiti'
My dragon fruit 'alice'

Nick




Posts

: 121


Join date

: 2011-04-08



Hello Nickisking
  How do you do for the flowers?
  The dragon fruit has three years and never flower.
   thank you very much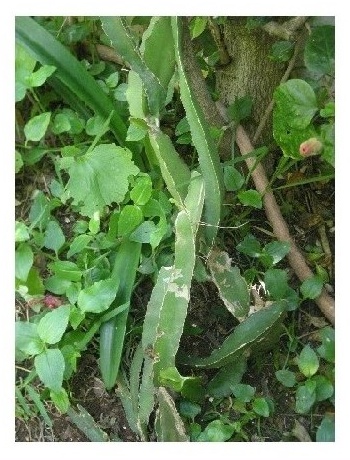 tropique

tropique




Posts

: 154


Join date

: 2010-11-15


Location

: Casablanca-Morocco



Hey tropique,

I just like to start by say very cool that you have your dragon fruit in the ground. I have yet to try that. When I move to florida next year ill be making a couple rows of them. Im guessing yours were cutting? Is it more then one even? fill me in a little on if you have more then one. If you have more then one do you have two different ones for cross pollination? are they seed grown or cutting? At three years from cutting you should already have a couple of fruit. As all my cuttings are only only just at 4 years. I had atleast 2-3 flowers on each one last year and atleast 1-2 fruits on them. What soil do you use? They are tropical cactus, and enjoy higher organic materal soil slightly higher in acidity and moister aswell. In my pot I use a 90% compost soil I make from my composter(high organic nutrients) and 10% sand for the fun of it. I do use fertalizer as well during the year. And train and cut my plants short each spring to keeep the fruit they do make big. I know its cheating but They seem to be enjoying life. NIce fruit as well. Its one thats unable to self itself though. So ifs its yours you would have needed two different plants flowers open (why I asked if you had different ones) If you have never had flowers then where did the fruit come from? They flower of me in spring and then again in fall if im lucky but that seems to be how it goes. I just say fertilizer when needed(for them I do it every other month in the warm seasons) and just wait really. I take them from there pots each fall and wash the soil away, upgrade my pot, and at new soil. Sense its in the ground changing the soil might not be best. I know this migh not even help but all im saying is the flowers are triggered by sun, age of plant, and the nutrients it gets. For more info on these guys privite message me. Ill ether try to help better or give you a link to site amd forum I used to go to for the same info.

Nick




Posts

: 121


Join date

: 2011-04-08



Hello Nickisking

  My two pitayas are grown from cuttings.
  Maroc.Une cutting of a cutting of France.
  J have committed many errors in their culture.
  I would do as you say. Pollination is manual.
  Thank you very much.
  Good culture.
     tropique

NB / J PEIT of writing sentences, to have a good translation.

tropique




Posts

: 154


Join date

: 2010-11-15


Location

: Casablanca-Morocco



Salut



Im torpique vraiment désolé, c'est impoli de m'écrire que beaucoup et de vous faire avoir elle aussi traduire
. N'hésitez pas à écrire comme ça, car il rend les choses faciles. Que voulez-vous dire que vous avez fait des choses mauvaises avec votre pitaya ? Je pense qu'ils ont l'air très bien. Ce sont des plantes très dures et voyant que vos plantes sont assez gros your doing quelque chose de droite. Je parie que vous aurez des fleurs en peu de temps ! Aussi si votre pouvoir obtenir un rose fructifié coupe non seulement il sera pollinisatrice auto mais il vient se trouve au goût mieux 10 x puis les types fruités rouges ou blanches. Le blanc fructifié comme mon pitaya alice ou votre goût d'image très fade. Celles entièrement rouges déguster un peu plus sucré puis celles blancs et le Rose un (un hybride de la rouge et de blanc) a été bred maintenant d'être la plus agréable de leur tous et il permet que les fleurs sur elle pollinisent combattirent avec votre ou une aide de chauves-souris. Si votre pays permet je peux envoyer vous boutures de la Rose fruitée physical graffiti si vous le souhaitez. Je pense que votre chance d'eux poussent dans le sol. Comment froid/chaud fait-il où tu habites ? Et avez-vous eu de les couper tout retour ? Je sais, en 10 ans, qu'ils peuvent couvrir un arbre de 15 pieds de hauteur ! J'espère que vous pouvez au moins un peu lire ceci.



Nick

Nick




Posts

: 121


Join date

: 2011-04-08



Bonsoir Nickisking
  Généruse thank you for your proposal.
  And thank you for your advice.
  Pitaya fruit in the picture is the fade.Je bought on the market.
  My two pitayas were in the shade. I'll put them in pots with good soil.
  I am in Casablanca ( Morroco ). Temperature: 10 ° c 35 ° c -----.
  All tropical plants succeed with us.
  Look what I grow in my garden, to get an idea:
   link:http://tous-les-fruits.com/photos/tropique/album-288.html
   S there is something new, I would say
     thank you again
      A
            tropic


tropique




Posts

: 154


Join date

: 2010-11-15


Location

: Casablanca-Morocco



My pitaya Vietnamese red, and L.a. woman. I picked the La woman a little early sorry.

Nick




Posts

: 121


Join date

: 2011-04-08



Hello Nickisking
  This is very pitaya savoureuse.Bon appetite!

tropique

tropique




Posts

: 154


Join date

: 2010-11-15


Location

: Casablanca-Morocco



Good evening
Please Nick, how to have ds flowers?
Thank you
He was 4 years old.He has never flowery n
tropique

tropique




Posts

: 154


Join date

: 2010-11-15


Location

: Casablanca-Morocco



Hey,

I can give a few suggestions, but please understand I can only do just that. I do not know what has kept your plants from flowering but I'll try to help. I also don't understand your climate so I'll be using mine as examples. In the fall, I cut back my dragons to just 1-2 links of the plant each. And store my cuttings till winter. Cutting them back helps me to bring the plants inside, make rooted cutting for sale, and give the dragons time to focus on their roots. In fall still after cutting them back I store them in empty room.In winter they stay there as I root the cuttings I took in the fall. In spring I give them new soil and start fertilizing, and bring them outdoors. They only take about a month or two to fully grow back to be monsters. By the start of summer you should have flowers. And by the end of summer you should be sick of eating the fruit haha. I'll up load a few pics of this process for you in a message next year unless others want me to do it here on this post( I know this is a passiflora website) I will say your plants size is nice. And it should flower for you soon. Next year I'll be keeping mine outdoors year round so I'll be learning more myself. I know how frustrating waiting for plants to flower I have quit a few endangered plant that i have had for year that have yet to flower, and don't even get me started on some of my passiflora I have grown from seed haha. I wish you the best of luck! keep me updated and I'll try to heLp more if I can.

Nick




Posts

: 121


Join date

: 2011-04-08



Hey,
Good evening Nick
The month of March, I will do as you say:
-change the Earth.
-Add l fertilizer.
Surely, j would have beautiful plants as yours.
And beautiful fruit.Yum! yum!
I'll show you to n anything.
MO st subtropical climate.
An idea :http://www.zoover.fr/maroc/maroc/casablanca/meteo
Thankyou

tropicana

tropique




Posts

: 154


Join date

: 2010-11-15


Location

: Casablanca-Morocco




---
Permissions in this forum:
You
cannot
reply to topics in this forum